A neutral zone should be utilized during all surgical procedures to prevent two individuals from simultaneously handling a … sharp, including but not limited to scalpel blades, suture needles, hypodermic needles, and sharp surgical instruments.
What is Surgilock?
• An adhesive cross-linked polymer pad that securely holds both
metallic and non-metallic instruments and prevents them from
breaking the sterile field or landing on the floor
• Greatly reduces Operating Room delays to retrieve another instrument
• Reduces chance of instrument damage
• Enables surgeons to have their most commonly used instruments
readily available to them
• Provides a safe way to supply pre-loaded needle holders with less
back and forth transfer

SAFETY PLATFORM – Helps reduce sharps injuries in the operating room. Securely holds sharps, needles, scalpels, etc. safely in the sterile field and greatly reduces the need for passing between staff members, virtually eliminating accidental sticks
EFFICIENCY – Our patented technology allows Surgeons & Nurses to perform surgery with less wasted movements, allowing a more time and cost-efficient procedure
TECHNOLOGY – Our patented ElasTak® adhesive polymer technology is non-toxic, environmentally friendly, green-based
MINIMIZES HEAT TRANSFER – From Bovie/electrocautery
NO MAGNETS – Holds everything
COST SAVINGS – No loss of overboard instruments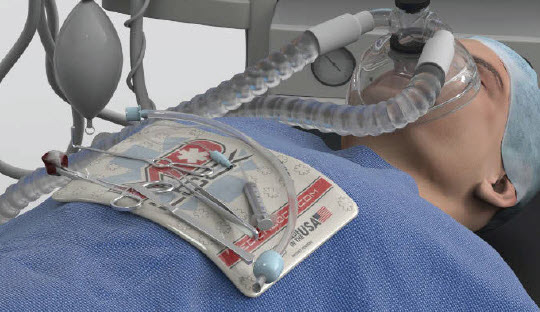 For more information about this safety product that:
saves time and money and improves Safety
Line of Defense for Infections due to sterile field being broken with dropped instruments
Increases Operating Room Efficiency
Reduces Sharps-related Incident
Reduces Instrument Drops
Eliminates Alternative Disposables
Holds Metallic and Non-Metallic Instruments and Equipment
Increases OR Staff Satisfaction
Contact MedicaLock.Com
608-430-2475

Neutray™ Sharps Passing Tray for neutral zone hands free transfer of sharps during a surgical procedure. This innovative product has been specifically designed to handle many of the different styles of sharps used in today's O.R.
It is the ultimate in safety since all sharp instruments have a specific slot or cavity that they can nestle in while they are being passed safely from the scrub nurse to the surgeon and vice versa.
It has a unique instrument pick-up area that protects the practitioner's hands from sharps or contaminated instruments unlike anything else available in the market today.
It can handle virtually all sharps in surgery such as: scalpels & blades; needle/needle holders (all sizes); syringes; sharp instruments (like Iris Scissors); K-wires; Trocars and others.
Also available with adhesive on the bottom of the tray.
Two trays can be interconnected as an option for a one-handed needle exchange system.
Our products meet and exceed OSHA, CDC, JCAHO and AORN standards. We suggest that you comply with current OSHA laws pertaining to Sharps Safety in Surgery by using our sharps safety products to avoid being cited by for repeated sharps safety violations.
For further information, please contact:
Advanced Medical Innovations
Mission Industrial Park
8741 Shirley Avenue, Northridge, CA 91324
Phone: (818) 701-7180
Fax: (818) 701-9708 | EFax: (818)-350-5738
Website: http://www.amiwelisten.com ● E-mail: sales@amiwelisten.com