Safety Suture Products
Fascia closure is routinely performed in more than 4,000,000 surgical cases each year. New technologies virtually eliminate the risk of dangerous suture needle sticks in millions of surgical cases where stapling is not applicable, enabling surgeons with wound closure that is safer than suturing by hand.
ETHIGUARD BLUNT POINT NEEDLES

Protect yourself and your patients—without compromising performance
Better protection from needlestick injuries
ETHIGUARD Blunt Point Needle is an innovative solution that helps protect you and your patients from needlestick injuries, providing you with a better needle option.
A solution to a costly problem
Over 384,000 healthcare workers in the US suffer needlestick injuries each year, putting them at risk for hepatitis, HIV, and other serious diseases
The annual cost of needlestick injuries to hospitals is approximately $258 million
The follow-up costs for high-risk exposure needlestick injury is almost $3,000 even if no infection occurs
A 2007 New England Journal of Medicine study report found that 99% of surgical residents had at least one needlestick injury by their final year of training—53% involving high-risk patients
Four prospective randomized trials have demonstrated notable benefits from use of blunt suture needles
ETHIGUARD Blunt Point Needles and conventional taper point needles both have a 12:1 taper ratio
Choose protection without compromising performance
Decrease the incidence of injury
Blunt-point geometry allows for easy soft-tissue penetration
Minimize bleeding and tissue trauma
ETHIGUARD Blunt Point Needle does not cause any more additional bleeding or patient trauma than a conventional taper needle
Its heat-treated, stainless steel alloy delivers optimal strength and ductility to resist bending and breaking
Use with ease
ETHIGUARD Blunt Point Needle is proven to be effective and user-friendly7
Increase precision
A ribbed and flattened body affords stability in the needle holder, for improved protection against slipping
"Though cost is often cited as a factor for not using safer devices, it is actually a savings when you consider the cost of treating the individual once a [needlestick] injury occurs."
The value you need with the protection they deserve
ETHIGUARD Blunt Point Needle meets the Needlestick Safety and Prevention Act standards
A 2007 Occupational Safety and Health Administration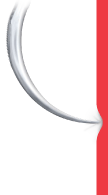 (OSHA) bulletin states that8:
— OSHA and the National Institute for Occupational Safety and Health strongly recommend the use of blunt-tip suture needles in surgical procedures to reduce the risk of percutaneous injuries to surgical personnel
— Employers in workplaces that use suture needles must evaluate their use according to the Bloodborne Pathogens standard of blunt-tip suture needles
The American College of Surgeons declared in 2005 that8:
— "All published studies to date have demonstrated that the use of blunt suture needles can substantially reduce or eliminate needle-stick injuries from surgical needles."