Safety Vascular Access Needles
Safety Vascular Access Needles
Safety vascular access needles are designed to obtain access to the vasculature of the patient for a variety of procedures including cardiology and radiology, without compromising the safety of the clinician. The needle is used for initial access to the vasculature. Following the needle insertion into the patient's vasculature, a guidewire is inserted through the needle. The needle is removed from off the guidewire. During this process the needle is protected thus preventing a needlestick to the clinician.
Cardiologists and Radiologists have traditionally been fairly resistant to using safety needles. SecureLoc is a very good replacement for standard introducer needles because it looks and feels just like a conventional product. This is very important to clinicians.
One of the major complaints that Cardiologists and Radiologists have with existing safety introducer needles is that they don't feel like 'real introducer needles.'

This concern about the tactile response of the introducer needle has kept many clinicians using conventional introducer needles, despite the risk of injury. With the SecureLoc Safety Introducer Needle, Cardiologists and Radiologists can use a safety product that is like the needles they are used to, without compromising their own safety or that of their colleagues.
The SecureLoc Safety Introducer Needle is 7 cm (2¾ inches) long and is offered in18 gauge, 19 gauge, and 21 gauge sizes. The ergonomic hub design is crystal clear for easy flashback visualization. The needle has a proprietary coating for optimum insertion control. It has an unobstructed pass-through, which allows for easy threading of the guidewire. One of the unique features of this safety introducer needle is that the safety feature automatically senses the needle tip and locks out to encapsulate the needle – even over a guidewire! The size of the needle allows the product to be used not only in Interventional Radiology, Interventional Cardiology and general vascular access, but in a variety of categories that do not currently have a safety solution.
SecureLoc™ Safety Introducer Needle
The SecureLoc™ Safety Introducer Needle is safe and simple to use. It looks and acts just like a standard introducer needle. However, at the hub there is a small "safety capsule."
This integral safety capsule automatically senses the end of the needle and instantly locks out to fully encapsulate the needle tip. This safety feature eliminates the risk of getting stuck with an introducer needle.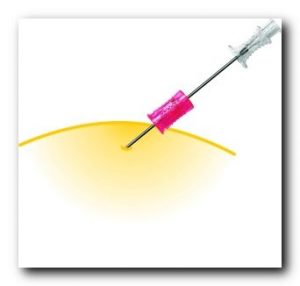 The product is easy to use. The needle is inserted into the vascular just like a conventional needle. The needle is pulled out of the blood vessel with the dominant hand, while the non-dominant hand holds onto the safety capsule. The safety device is activated while the needle is being pulled out of the patient. The safety feature automatically detects the end of the needle and locks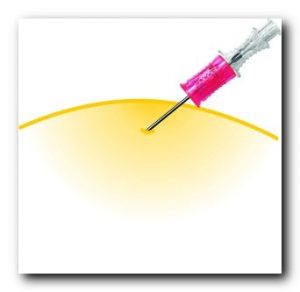 permanently into place.
One clinician said "The SecureLoc Safety Introducer Needle is designed for percutaneous entry and is easy to use, smooth, and intuitive. After accessing a vessel and inserting the guidewire, the safety guard may be activated before removing the needle off the guidewire for enhanced safety. SecureLoc introducer needles are designed for percutaneous access for all appropriate patient populations. The integral safety guard is not bulky or obtrusive and does not interfere with access during a vascular procedure. SecureLoc is safe, simple and effective."