Sharps Retrieval Systems
Custodial staff, technicians, and others are at risk when picking up sharps that fall to the floor. Safety retrieval systems help to pick up the sharps rather than just picking them up by hand.
Allen Needle Triever
Sharps can be safely removed from the floor for risk free disposal.
A re-useable device for the quick, simple and safe retrieval of sharps that have been inadvertently dropped onto the operating theatre floor.
Ensures safe, 'hands free' sharps retrieval
Robust design ensures a highly cost effective, long lasting device
Long handle enables retrieval while standing
Help protect your staff from sharps injuries with the Allen Needle Triever. This suture needle retrieval syst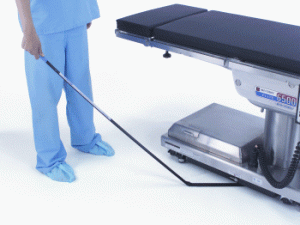 em has a large magnetic surface to easily pick up any ferrous needles and sharps as small as .15 mm (.006″) diameter.
Our unique design allows this magnetic sweeper to reach under the surgical table and other hard-to-reach places. The lightweight aluminum is easy to use, clean and store. The long handle, more than 3 feet, means you don't need to bend over to find lost sharps.
The reusable Magnetic Retriever is used for the safe retrieval of dropped needles, blades, instruments an

d other sharps or metallic objects during and after surgery.
This product has been specifically designed to retrieve dropped needles, blades and instruments that are frequently too difficult to find and hard to pick up from the operating room floor.
Too often, injuries occur when a lost sharp is discovered inadvertently or during a search.
This simple Magnetic Retriever sweeps the area and magnetically attracts the missing sharp.
This can then be removed safely and conveniently for risk free disposal.
The Magnetic Retriever reduces sharps injuries and the costs associated with treatment following a sharps injury.
Our products meet and exceed OSHA, CDC, JCAHO and AORN standards. We suggest that you comply with current OSHA laws pertaining to Sharps Safety in Surgery by using our sharps safety products to avoid being cited for repeated sharps safety violations.
For further information, please contact:

Advanced Medical Innovations
Mission Industrial Park
8741 Shirley Avenue, Northridge, CA
91324 USA
Phone: (818) 701-7180 (888) 367-2641
Fax: (818) 701-9708 EFax: (818) 350-5738
Website: http://www.amiwelisten.com
E-mail: sales@amiwelisten.com